on Tue May 05, 2015 1:42 am
Cuisine: Eurasian (European with Asian Influence)
Recipe: Cream Cheese Teriyaki Chicken Roll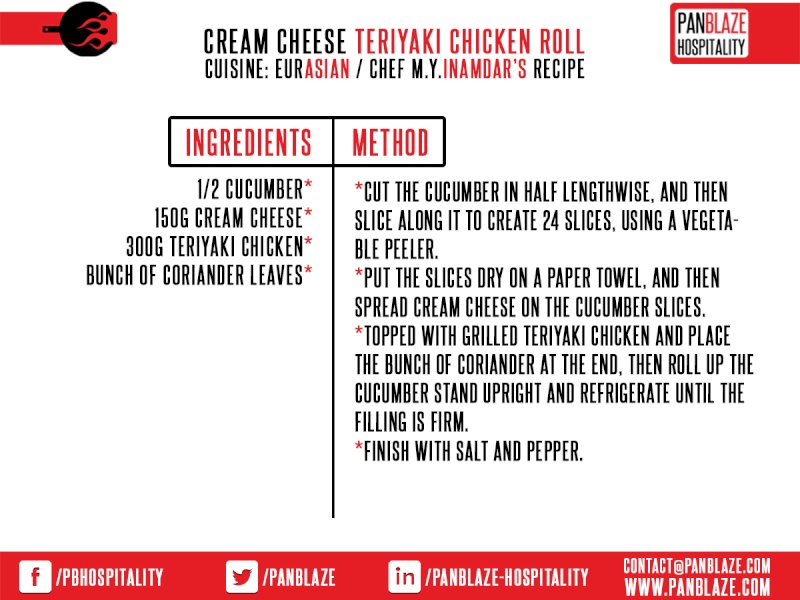 Ingredient
1/2 Cucumber
150g Cream Cheese
300g Teriyaki Chicken
Bunch of Coriander Leaves 
Method
Cut the cucumber in half lengthwise, and then slice along it to create 24 slices, using a vegetable peeler.
Put the slices dry on a paper towel, and then spread cream cheese on the cucumber slices.
Topped with grilled teriyaki chicken and place the bunch of coriander at the end, then roll up the cucumber stand upright and refrigerate until the filling is firm.
Finish with salt and pepper.
#‎Panblaze‬ ‪#‎hospitality‬ and ‪#‎entertainment‬ ‪#‎worldwide‬ ‪#‎chefinamdar‬ ‪#‎stlyle‬ ‪#‎recipe‬ ‪#‎foodporn‬ ‪#‎bestoftheday‬ ‪#Cream #cheese #Teriyaki #Chicken #Roll

Permissions in this forum:
You
cannot
reply to topics in this forum